Cheap Essay Writing Service 🤑
When Struggling with Assignments Is Not an Option
If only the life of a student looked like one big party with no limitations and headaches all the students in the world would want to get a degree. The reality is more like an endless sequence of assignments and boring classes. Of course, there is a big goal you want to reach - getting your diploma. It is sometimes the only thing that helps you get through the midterms and finals. If you ask us whether you should struggle during the years of studying or not, we certainly think that there is a very nice alternative. You can use the talents of our experts to cope with your essays better and faster. Do not waste all of your free time on the assignments that do not bring you any additional value. Do what you like and lay the foundation of your future successful career. We will not let your homework spoil the time you spend in college.
Make Effective Decisions with Our Help
Some students forget that the main goal of going to college is gaining knowledge. the diploma itself is not that important if you do not acquire the necessary skills for building a successful career. If we are being honest, not all of the classes you are going to attend are equally valuable. Some of them can broaden your view but will not bring any practical value to your life. When you feel that you are struggling with getting a high score because you are not sure of how important the class is for your future, our writers can make things easier for you. You won't have to spend a lot of time writing papers. Instead, you will be able to attend other lectures and extracurricular activities that can actually make a big difference in your life career-wise.
Socialization and communication skills are crucial for almost any kind of job you may choose after graduation. Do not sacrifice the opportunity to make new friends and improve your skills just to turn in a boring essay on time. Let the experts at Helpwriter.com work their magic. As you've noticed, our company offers a handful of guarantees and makes sure every client gets exactly what s/he needs.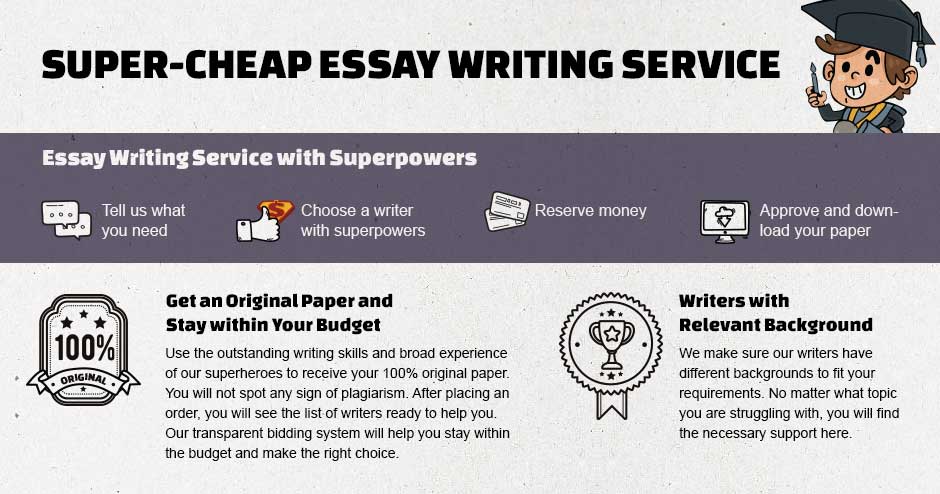 Your Life Will Become Less Stressful
You might have heard a phrase that says that you get what you pay for, meaning that it is your responsibility to make a choice of what to buy and what price to pay for it. However, in the case of online services like Helpwriter.com, you can't see what you pay for in advance. That is why there are no upfront payments here. We reserve your money and release them only after your confirmation that the essay you got looks exactly as you want it to look. We don't want you to buy a pig in a poke.
If you want to really frighten a student by telling him/her a scary story, that story must be about a plagiarized essay. Nothing can be worse than turning in a plagiarized essay. The reputation will be ruined, the GPA score will not look like the way you wanted. We are aware of the situation with the lack of original content. When you decide to use Helpwriter.com, you can stop worrying about trivial topics and boring cliches. Our writers create content from scratch. The information you provide them with is the best guide they need to create something outstanding. Many students think that they can check the originality of their essay by using one of the many online free tools. However, there is a high probability that you will not get accurate results. We have developed our own plagiarism checking algorithm to make sure our clients have no problems with unoriginality. Our experts cite all the sources they use and write detailed bibliography pages. You can rely on their professionalism when it comes to impressing your teachers with non-trivial topics and ideas. To help you get the grades you need, our writers seek inspiration using different methods. As a result, you will show off your authenticity and creativity.
Helpwriter.com provides you with a long list of beneficial services and appealing guarantees. That is why you have to understand that our services can't be very cheap. We hire experienced writers to help you and, therefore, they need to get fair remuneration for their hard work. Nonetheless, we give our clients some flexibility when it comes to the payment process. There are additional services you can use or ignore. The final price depends on the quantity of these additional services along with other factors. You can use the option of progressive delivery and to work with a writer who has a high rating. You can regulate the price according to your budget limitations and desire to pay a particular amount for this kind of services. In any case, we will make sure your essay looks great.
Real Life Situation Example
After using our help, you will never say again the following statement: "I don't need anyone's help, I can write my essay on my own".
Let's say you need to analyze Ernest Hemingway's "The Old Man and the Sea." This is a complex story with a deep underlying meaning. For starters, you will obviously need to read it (if you have not done so) at least twice. Why? Because one time is simply not enough. Reading through a story just once gives you the understanding of the plot: you learn who is the main character, what happened to him or her, what is the overall context of the story, and how it finished. That is it; if you managed to fully disclose all the details, see through all the motives of the characters, and figure out what the main conflict is, good for you. However, in practice, in order to be able to do all this, a regular student needs to read a story for the second time. Repeat reading is usually less rushed, as you already know what is going to happen, so your curiosity does not make you gallop through the pages; besides, when reading for the second time, you can take notes, and create mind maps and diagrams describing the relationships between the story's characters, their implication to certain events, or their role in general. Such footnotes are crucial for successful analysis, as you will see the bigger picture clearly.
So, you have to read through the story twice, take notes, and start writing. How much time and effort do you think all this takes? Right, a lot, and the more skillful you are in writing such kinds of essays, the better the outcome will be. And, as we already discussed, a regular student is often short on time: too many things to do, too many urgent assignments to complete. Naturally, when you use a service like Helpwriter with a request to write an analysis essay, a more skillful writer is needed to do it, and it costs a bit more than an average essay. At the same time, when you order a simple expository topic such as, "Negative effects of tobacco smoking," it can be written even by a novice writer, and respectively, the price is lower. However, a number of services on the Internet rarely offer a gradation based on a writer's skill level and the complexity of a essay ordered—so if you want to be sure you spend your money wisely, using Helpwriter for assistance can be a reasonable solution.
Some More of the Advantages
Okay, but what if you have specific requirements for the essay ordered, or just want to take control of the process? No problem: with Helpwriter, there is an option to take a look at the essay the writer you hired is currently writing; you can evaluate the style, the quality of sources, the correctness of citations and their correspondence with the existing MLA/APA formatting requirements, and so on. Moreover, you can even make corrections on the fly, asking your writer to add or exclude certain information in the essay. This is a convenient option, especially for those who might have already burned their fingers working with other custom writing services; of course, Helpwriter provides papers of the highest possible quality, but if you like to be on the safe side, you are always welcome to monitor your hired writer's work.
And finally, even if you skipped the writing stage for some reason, there is still a way for you to participate in the writing process. Say your writer has sent you the final version of the essay; you download it, read through it, and understand that you do not quite like what you are seeing: for instance, you have found some typos, or grammatical mistakes, or some information just does not look credible enough. No problem, you can ask for an editing round—if your customers are not satisfied with the essays we send them, they can request an editing for free! With this service, you can submit a top-notch essay to your teacher.
Feel Free to Use Helpwriter
At the moment, Helpwriter has what it takes to be one of the most advanced essay writing services on the Internet. A flexible pricing policy, high-quality plagiarism checking, free editing, the absence of upfront payments, and the ability for a customer to monitor and control the process of writing are solid reasons to give Helpwriter a shot—especially when you are loaded with academic assignments. Feel free to make full use of our service whenever you feel like it!
Our Cheap Essay Samples